Publisher – Perfect Flight
Title – Sound Environment X
Version – FSX (All Versions)
Media – Download 435 MB (No refunds given ) or Download + CD-R (+ € 12,00)
---
Sound Environment X adds more realistic engins and surrounding sounds in your flight simulation experience by changing and improving all default FSX and Acceleration pack sounds.
By default, sounds in Flight Simulator X comes registered by Microsoft at 22,050 kHz using only one channel (MONO). Sound Environment X converts all sounds using two channels (STEREO) at 44,100 kHz. The result is a more accurate effect for every sound available in Flight Simulator X and Flight Simulator X Acceleration Pack.
Sound Enviroment improves all type of sounds like engines, precipitation, thunder airport ambience, winds. Many sounds have been totally reworked, specially engine sounds for planes used by the Artificial Intelligence to generate traffic in FS airports and skies. Ground vehicle, Turboprops, small, medium and large Jets have now new and improved effects. Also, all default Fsx aircraft have now new and improved engins sounds.
Thunderstorms and precipitations will surprise you with spectacular effect and you will turn head left or right!
Sound Environment X improves more than 1750 sounds. Here a list of the most important improvements:
Ambience:
Thunder
Rain and Precipitations
AI engines (jet, prop and turbo)
Ground vehicles
Airport ambience
Winds
Aircraft damages
Boat water
Birds and waves
Aircraft equipment:
Airframe
Touchdown
Gear and Canopy
Flaps
Instrumental Equipment
Radios
Aircraft Engines:
Airbus A321
Boeing 737-800
Beech Baron 58
King Air 350
CRJ 700
Cessna Skyhawk 172SP
Cessna Grand Caravan
DeHavilland Beaver DHC2
DG-808S Competition
Douglas DC3
Extra 300
FA-18 Hornet
Grumman Goose G21A
Learjet 45
Maule M7 260C
Maule M7 260C Ski
Mooney Bravo
North American P-51D
Piper Cub
The program allow you to install new sounds easily. Also you can restore defaul sound in any time using the same setup. No backup required.
System Requirements:
Flight Simulator X or FSX Acceleration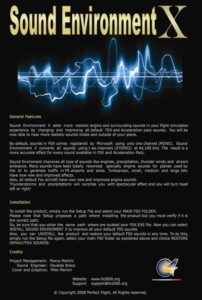 | | |
| --- | --- |
| Delivery | Download, Download+CD-R |
Related products
FSX Missions – United B737-800

€

9,95

Publisher – Perfect Flight Title – FSX Missions – United B737-800 Version – FSX (All Versions)  Media – Download 332 MB (No refunds given ) or Download + CD-R (+ € 12,00) United Airlines, Inc., commonly referred to as United, is a major United States airline headquartered in Chicago, Illinois. It is the world's third-largest airline when …

Select options